2018.10 SEG exhibition in the USA
From October 14 to 17, 2018, our company was invited to participate in the SEG exhibition&the 88th annual conference held in the USA. In the exhibition, our company made an amazing appearance as the only domestic manufacturer providing high-precision distributed seismograph with medium-small channels,we focus on exhibiting the distributed high-precision land seismograph GS201 and micro-node seismograph GN201 independently developed by our company. Throughout the exhibition, the distributed high-precision land seismograph GS201 has shown outstanding performance on many parameters, and the high-quality products and production process have demonstrated the excellent technical strength of China. At the same time, the micro-node seismograph GN201 is different from other common wireless node instruments in SEG exhibition, and we have greater advantages in detection methods, market segmentation and customer group definition.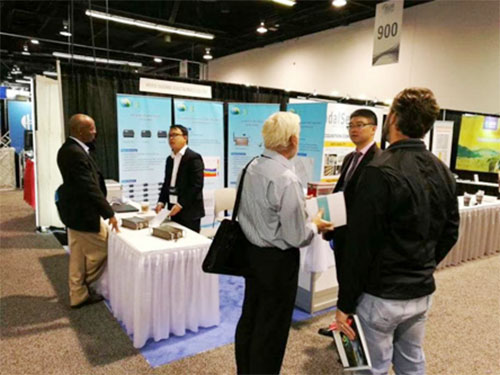 Although the SEG exhibition has ended, the wonderful show of our seismograph products are still fixed in the mind of geophysicists around the world. A broader international cooperation and win-win situation are waiting for us to realize. In the future, we will continue to adhere to the development goal of "GUOWEI of China, GUOWEI of the world", seek innovative development of the industry based on excellent technical strength, constantly break the shackles, beyond the self, and determine to become a renowned seismic exploration products and solutions provider at home and abroad.